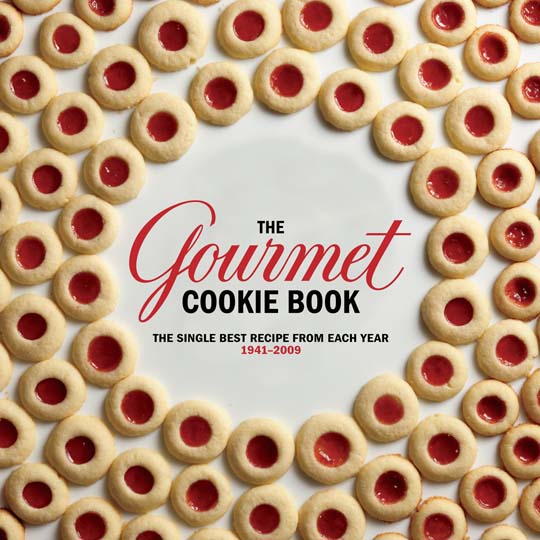 Two important introductions today, the first is a contest, a Holiday Cookie Challenge (more about Gourmet's newly published book below).  And the second is an introduction to a culinary colleague who has begun helping me out, keeping me organized, preventing my brain from exploding all over my computer screen.  Emilia Juocys (pronounced YO-chess, Lithuanian background), graduated from Schoolcraft College's culinary arts program and proved so valuable in helping Brian Polcyn (her former chef instructor at Schoolcraft) and me with the new Salumi book that I've asked her to spend part of her work week helping me.  While Ratio has gone a long way in making me understand the baking kitchen, I'm still a savory guy at heart, but I'm thrilled to introduce Emilia's love of cookies and her challenge to bakers with this cookie contest.
___________________________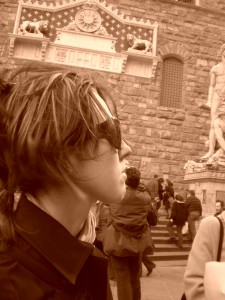 by Emilia Juocys
Gourmet was my favorite food magazine. It had great recipes, phenomenal photography, and amazing writing.  I'm still sad it's gone. For me November was a magical month not because of thanksgiving or black Friday.  It was the month the Gourmet December came out.  And the December issue always featured holiday cookies—perfectly baked, assembled, decorated, and photographed cookies.  They sat on the page waiting for you to grab them; so scrumptious, so beautiful, tempting any baker or cookie maker to their holiday cookie list. I waited for days for the magazine to drop in the bookstore or to arrive on my doorstep.  Christmas would never be the same in the kitchen without it.
The Gourmet holiday cookie magazine ran from 1996-2007, for me the formative years of my culinary existence.  The December issues were always hidden amongst the marquee cookbooks, that became part of my cookie arsenal.  When I finally attended culinary school I realized that cookies and I had a bond.  They made sense.  Something about the butter, the sugar, and the creaming—I just had it; I don't know what, but I did.  I'm a savory cook but it's an honor when my restaurant calls me in to pinch hit for cookie production.  I am the cookie consultant.  I. Love. Cookies.
When Michael asked me what ideas I had for the blog my first thought was Holiday Cookies because I miss Gourmet's cookie issue.  Last week, as we were planning this post, Michael received an email from Christina at Houghton Mifflin telling him about two new titles they were bringing out.  One was the above The Gourmet Cookie Book.   Serendipity.  I am excited to be a part of what I hope will be an annual Ruhlman Holiday Cookie Challenge.  See categories and instructions below.  All winners will receive a copy of The Gourmet Cookie Book and a signed copy of Ratio: The Simple Codes Behind the Craft of Everyday Cooking.  Good luck and good baking.
__________________________
The cookie season is coming upon us quickly.  We need all cookie bakers, pastry chefs, and rolling pin wielders to submit your favorite recipes. While we believe that there's no such thing as an original recipe, we do ask that recipes be yours and if they are yours but tweaked from existing ones, that you give full credit to a book, person or blog from which you took your inspiration.
Here are the goals, categories, instructions and rules:
The Goals Are:
To win! (goal for you that is)
To share cool cookie recipes (and links and blogs)
And, if it works, to create over time an online collection of excellent holiday cookie recipes
The Categories Are:
Drop Cookies
Cutout or Rolled Cookies
Inventive Cookies
Send To Us By E-Mail with "Cookie Contest" in Header:
Your name, city, and contact info if different from email
Picture of your cookies (not graded on quality, but we may ask to use it if it's excellent)
Cookie Recipe with yield (Imperial or metric measurement are both fine)
Why your cookie is a holiday favorite (50 words or less)
All material should be mailed to Emilia: ejuocys@gmail.com
Rules:
Contestants can only enter one recipe in each category
Submission are only permitted via email
If "cookie contest" is not in header we cannot guarantee inclusion in the contest
Photos, contact info, and recipe must all be received by 12AM Eastern Time on November 28th to be reviewed for the challenge
The exact recipe cannot have been published (book, magazine, newspaper, internet) by someone other than you
By sending a recipe, you are consenting to allow ruhlman.com to publish your cookie recipe if it wins (with full attribution and any desired links you wish, of course)
Judging:
All cookies will be evaluated first by their written recipe and cookie support statement.
Cookie judging will be done by Michael, Emilia, Michael's lead recipe tester, Marlene Newell, and her trusted testers at cookskorner.com.
Cookies making it past part 1 will then be tested in home kitchens and scored on a 1 to 5 scale in these areas: Taste, Texture, Appearance, Festive Nature or Holiday-ness, and Replicability (they should be accessible to all cooks, regardless of skill level).
In addition to publishing the winning recipes, we will also publish links to all the recipes we love if you have posted them on your blog.  Again, winners will receive the Gourmet book, my book Ratio, and, of course, everlasting glory.
Questions?  Leave them in comments and Emilia or I will answer.