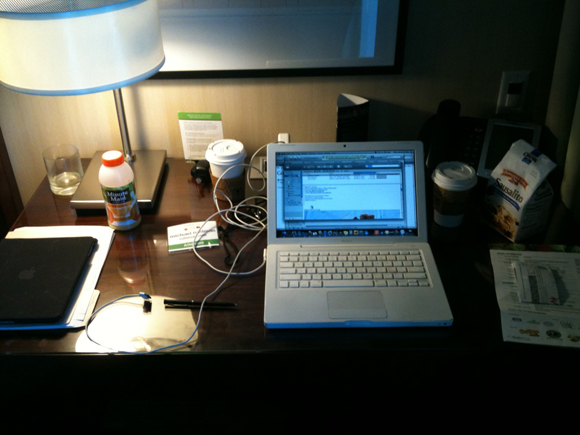 This was what I was looking at when my vegetable love alarm went off.  A San Francisco hotel room during BlogHer 2010.  Unfortunately, it's going to happen.  We forgot to pick up our CSA.  Donna had flown to New York first thing Saturday morning after a last minute invite for some city fun (bloodies at Balthazar, Aquagrill for cherry stones and oysters, Eataly for pizza and pastas, the rooftop terrace at the Grammercy Park Hotel for drinks and then Peasant for a late dinner of razor clams, octopus, tripe, cuttlefish and veal bolognese over a thick eggy pasta—oy, I went to the wrong coast!)—so asking a friend to pick up our share had not been on my pre-flight to do list, and Donna, in her haste, didn't think of it. When I remembered, it was 8 am Saturday, west coast time—the exact deadline and thus too late to reach a friend to rush to get it.
So add this to the con side of the "Is CSA a good choice?" page.  Not the fault of the farmers or the CSA, just a fact of busy lives. Our share went to a food bank, so I'm trusting it wasn't wasted, but it does bum me out to have missed it.
Maybe now is time to talk about CSA negatives.
I only have one other.  Too many green peppers—or, more seriously, a lack of diversity of produce.
But, if the price is right for you, so far, the pros are outweighing the cons.
Anyone else have this problem of forgetting, or am I the only loser?