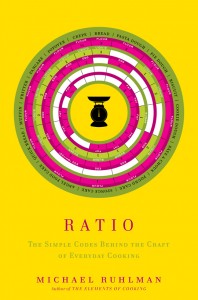 I'm thrilled to announce that Ratio: The Simple Codes Behind the Craft of Everyday Cooking, has now been published at an enormously friendly price, in pocket-friendly flexibility.
That wickedly smart television personality, author and speaker, food guru Alton Brown, chose the book as one his Top 5 cookbooks, period: "This is a refreshing, illuminating and perhaps even revolutionary look at the relations that make food work," he writes in The Wall Street Journal.  (Brown has a new book out next month, Good Eats: The Middle Years.)
My favorite review was in Slate, in which Jennifer Reese asserts that Ratio is a "fascinating and pompous new book."  Who the hell is Jennifer Reese?! NPR reporter Guy Raz read Reese's skeptical but ultimately won-over verdict and did this piece for All Things Considered.
If you're new to this site or don't know about the whole concept of ratios and my book—"possibly revolutionary" he repeats, pompously—watch this 2:41 minute video, filmed in my kitchen.

Because this concept of proportions could be adapted so beautifully to the new smart phones, we've created an app that makes all the calculations for you, allowing you to scale recipes up or down with a tap of a finger based on how much you need or how much you have.  A pancake recipe in a book may work great, but say it calls for two eggs and you only have one, you can't tap the page and find out how the recipe changes if you reduce the number of eggs. You can with those miraculous smart phones. (I'm thinking of building an app for the iPad, which could also include more of Donna's gorgeous black and whites.) Here's the link for the iPhone app. Click this link if you're on an Android device.
Want a closer look of how the book works along with recipes, here's a post on the vinaigrette ratio I wrote for Elise at Simply Recipes.
Thank you all for reading, and to the many many who already have Ratio, forgive the repeat of all this info. I do care about this book and I do hope it makes cooking more fun, and more accessible, to more people.