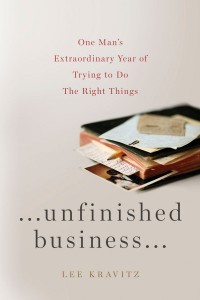 More than a year ago, the editor of Parade magazine was abruptly fired from his job, a job he cared deeply about and a job he worked very hard at, sometimes at the expense of his wife and three kids. Lee Kravitz and I went to the same high school, not ten years apart; when I was there, he'd taken a job in the alumni department but, an apprentice writer himself, he occasionally joined our weekly, after-hours writing seminars.  Years later, an editor in New York, he met his wife, by chance the literary agent who had years earlier agreed to represent me and subsequently agented all my books.  They had kids, both were successful in business, had a home in Manhattan and a home in the country...and then he was fired.
At first adrift, he chose not to seek another job but to embark on an uncommon quest and to write about it in a book he's just published called Unfinished Business. We have all done things we regret, wrongs we'd like to right. Lee set out to do just that, taking care of unfinished business, ten tasks, finding an aunt who had been abandoned by the family, reconnecting with an old friend who'd lost his daughter, finding and thanking his high school mentor. There's something intensely liberating about this idea, and Lee has done a fine and thoughtful job at recounting his year.  It's the kind of reportage-cum-memoir that I love.  If you heard him on All Things Considered last week, you got a sense of the intelligence he brings to the writing of the book.  (Clevelanders, Lee's reading tonight at Joseph-Beth Booksellers at Legacy Village if you want to hear him in person.)
It was the book I read while in Italy and I found it fascinating and couldn't help but imagine, as any reader or listener must, what unfinished business I ought to be attending to.
And I write about it here, not only to make sure as many people know about Lee's book as possible, but to put this very question in a more specific and culinary light, to you, readers and cooks.
What is your unfinished business in the kitchen?  It's summer.  Often hours are more relaxed.  We have some time.  We take a break.  Perhaps it is time to prepare that cassoulet you've always dreamed of, curing your own duck, making your own sausage.  Growing and drying your own legumes.  (Kidding.  Sort of.)  Or maybe just to grow a salad.  Or make a loaf of bread or a pie. Or teach someone you love to cook. Or make pasta for the first time.
Me? I have two.  The first is to make my great grandmother's meat dumplings. That won't be difficult, just need to do it after all these years hearing about them.  The difficult task for me is to make a hard cheese.  I tried and failed last year.  I want to make a cheddar cheese.  Heidi, can y0u help me find some raw milk?  I'm not hopeful, but, like Jack Nicholson trying to lift the water fountain in Cuckoo's Nest, I'm gonna try, goddammit.  I'm gonna say, "At least...I...tried."
Think about it.  What is your unfinished business?  Write it here in the comments, publicly commit.  I have.  Here's additional incentive.  I've got two copies of Lee's book provided by the publisher, to give away, randomly, or maybe not randomly, maybe I'll choose the comments that I think are the most ambitious given the skill level (will do this Friday at noon).  But don't just comment to comment for the book.  Comment to commit to accomplishing something new in the kitchen.  When you complete it, failure or not, send me a photo (michaelruhlman@gmail.com).  I'll post the most inspirational this fall.  And you can laugh at my cheese.
Update 6/11:
Many thanks to all of you who have made this such an inspiring post with all your comments.  You've increased my goals for the summer and inspired me!  The winners of the books have been chosen for a personal reason, the first two who have or wish to do something for or because of their father.  Father's Day approaches, and I miss my dad, so there it is. The first also has the coolest byline yet: Echo Fling; she writes the plucky gastronome blog; thank you, Echo, for a comment that connects cooking to the bigger issues.  And second, to the blogless Thor; I will send you this book if you send me your address, but you have to promise to build your dad that brick oven.
BTW, for those interested in pursuing the unfinished business outside your kitchen, Lee has set up a site with tools and advice for proceeding, myunfinishedbusiness.com.
Again, to all, can't tell you how surprised and inspired I am by your comments. Thank you.