I rubbed the brass pig snout in Florence hoping to rid myself of bad Florence karma (first time there, my girlfriend left me for another guy, second time there, Donna and I parted for what was planned to be a year's separation; this time, only a crummy dish of carbonara happened to me, which wasn't bad at all, so it seems the brass pig works).
But even in May the place is thick with tourists, so I was only too happy to say arrivederci and head for the rural shelter of the Spannocchia.  This trip was filled with out-of-the-way places not much written about.  Like, Spannocchia.  Loved this place.  They raise the hogs on beautiful pasture and in woods, the interns take them to slaughter in as stress free a way as possible; they do all their butchering and charcuterie on the farm; they also make olive oil, grappa, and grow much of their own food.  If you are hale and have three months to spend in Italian countryside learning about food and farming, look into an internship there (info@spannocchia.org). It's also a lovely vacation retreat.
We began the trip in Biella, 90 minutes east of Milan.  It's a lovely old town with a Medieval section on a hill over looking the city and behind it, the Alps.  A small manageable place with no tourist issues. Again, a trip to Mosca is recommended.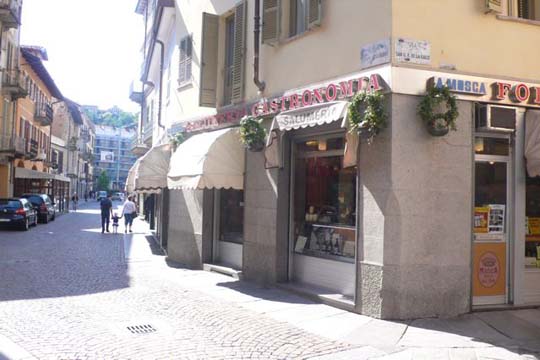 I convinced Brian and Nic that a Colonnata detour was worth the time.  Brian, having tasted the lardo in Biella, was eager to go.  After winding, winding, and more winding, honking before we took each bend in the narrow two-way road, we reached the tiny city center, one small square.  Bigi Luigi, gave us a tour of his curing cellar, where he packs slabs of fatback in sea salt and herbs for a minimum of six months.
San Miniato is a classic Tuscan town on a hill looking out over rolling pastures (see previous post).  We visited a great salumeria, Sergio Faschi, tasted their coppa and soppressata, salami, and a fabulous spuma di gota, guanciale pounded to a paste in a mortar, spread on bread.  (Strangely, the bread in Italy is almost uniformly without character.)
Bevagna, a tiny ancient city that became a self-governing Roman town around 80 BC is near Perugia and Assisi, turned out to be a lovely detour where we found an excellent salumeria and wine store, Salumeria Enotecha de Bevagna, where we first encountered "Grandpa's Balls." We stayed in the historic residence, L'Orto degli Angeli. Nice rooms, reasonably priced, wonderful old building and decent food in the hotel's restaurant.
From Bevagna we took another detour to Norcia, seat of the ancient butchers that now gives its name to the trade.  The town seems composed entirely of salamerias and is decorated everywhere with pig bladders.  It's a gorgeous town set in the middle of the mountains, enclosed by 14th century walls.
Siena was the kind of big city I didn't expect to like as much as I did.  Dark brown stone walls, a picturesque square around which horses race in the summer. Perhaps it was the meal at Pino di Cicco's Osteria da Divo that made it feel such a fine place.
Zibello, way off the beaten trail, in the semi-industrial farmlands of the Po valley, is where we had our final lunch, at La Buca, a lovely restaurant and Inn that I can't recommend more highly (you're greeted by the propietor and cook, Marian, who has a discussion with you at the outset and more or less tells you what you will have).  A platter of culatello, served with bread and adorned with curls of cold butter began the meal, followed by three different pastas and a platter of boiled meat (excellent), cured pork shank, with three sauces, a sabayon, a chunky salsa, and mostarda, fruit cured in a spicy syrup, a grappa, a coffee then, sigh, a long drive to an airport hotel to catch an early flight to JFK.
It's so hard to leave Italy.